The beer industry is currently facing some major challenges. Rising raw material expenses, especially for malt and hops, are pushing up production costs and forcing breweries to adjust their prices, thereby intensifying competition. Sustainability and eco-friendly production methods are gaining in importance and demand investments in new technologies. Craft breweries are increasing the competitive pressure on established businesses as they continue to enrich the market with innovative products and flavors. Logistics problems caused by global supply chain disruptions are making the transportation and procurement of raw materials more difficult. To overcome all these challenges, breweries need to focus on adapting and innovating their business model.
Increasing competition
Tradition versus innovation
Changing consumer behavior
Rising costs
Sustainability
Lack of staff
In this challenging environment, it is crucial to have the right partner on board. ProLeiT, which brings more than 37 years of experience in spearheading projects and offers its industry solution brewmaxx, is the ideal partner for breweries, whether they are established brewery companies or up-and-coming micro brewers.
Trend-setting solutions for the brewing industry
Are you currently facing the aforesaid challenges and looking for a solution for your brewery that:
facilitates your processes,
optimizes your entire value-added chain,
increases the productivity and flexibility of your company,
helps make your business more profitable
and accompanies you on your journey to building the industry of the future?
brewmaxx provides you with an established solution that is tailored to the specific needs of breweries.
brewmaxx is an object-related and PLC-based process control system developed by ProLeiT GmbH with MES functionality and an integrated recipe control for liquids. brewmaxx can be used in combination with PLCs from various manufacturers and is available in five languages.
This high level of flexibility is one of the reasons why brewmaxx is today used around the world and controls breweries with an annual output of more than 250 million hectoliters - almost one fifth of global beer production!
Over 850 installations
worldwide with a total output
of more than 250
million
hectoliters

Our solution in your brewery
Success stories from our customers and partners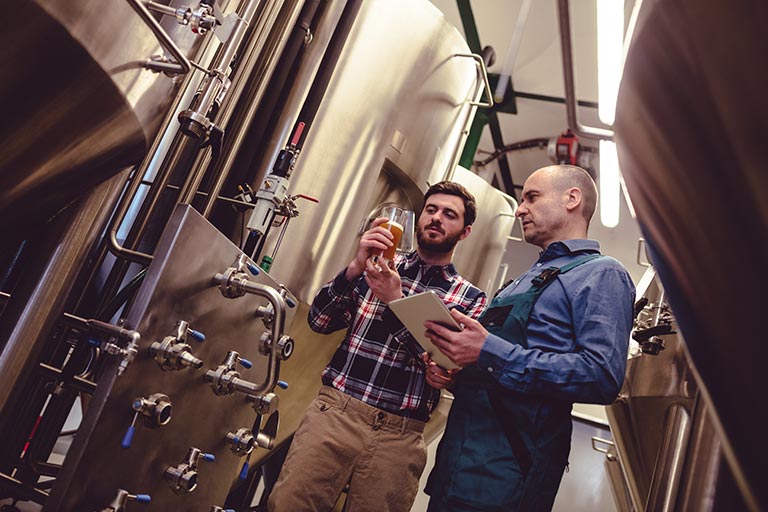 ProLeiT is proud to have been working with renowned brewing industry customers for more than 37 years. The successful completion of joint projects inspires us at ProLeiT every day to continue shaping the future of automation. We appreciate the personal contact with our customers, the exchange of professional insights and the mutual enrichment of our experiences. We are particularly proud of the fact that our brewmaxx solution is used as the standard application by a wide range of brewery organizations. More than 850 installations worldwide are a true testament to our reliability and the trust that our customers place in us.
Learn more about ProLeiT customers
Discover our archive of fascinating customer stories and be inspired by the success of our well-known testimonials.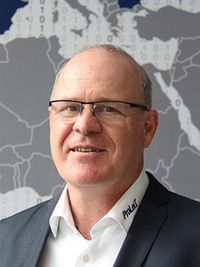 brewmaxx - the automation solution for breweries
Like no other process control system on the market, brewmaxx is perfectly tailored to the day-to-day needs of breweries. We work where standardized control systems fail by focusing our attention on industry-specific process automation for breweries. Supported by our in-house system development team and close cooperation with breweries, plant suppliers and universities, brewmaxx provides a cutting-edge process control system for the brewing industry.
In addition to the standard process control system, ProLeiT also offers a large range of brewery-specific modules and add-ons that can be flexibly combined.
Current product highlights
Dive into a world full of innovation and progress. With brewmaxx, you are always one step ahead when it comes to the latest solutions for breweries. Our innovative product portfolio is continually being developed by our in-house R&D team.
Take a look at the many added values brewmaxx offers
brewmaxx ensures less programming since we apply the principle of 'parameterization instead of programming'. This means we employ technical settings to largely avoid individual programming. Our 'compiler-less' system architecture creates the necessary flexibility to make changes even during ongoing operation. This allows you to adapt the control system without any downtime. Save time and gain a real competitive advantage.
Engineering with brewmaxx takes place according to standardized methods. Standard functions, e.g., brewery-specific automation classes, ensure that the process control system is transparent. Alterations and extensions can thus always be traced and multiplied - a safe investment solution for the future.

General functions of the process control system brewmaxx
Object-oriented, open and PLC-based process control system
MES functionality
Integrated, technology-related recipe control and management
Intuitive user interface, designed to the latest usability standards
Standard library for intelligent, vector-based process graphics
Process Screen Designer for creating process images
Extensive module library of predefined automation classes
Brewery-specific equipment modules
Production Report Designer for creating production reports
Cross-divisional and web-based reporting system
Extensive archiving functions
Energy management system
Recording and output function of process sequences