Plant and Mechanical Engineering Partners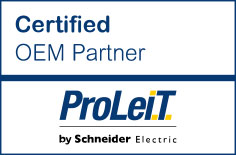 Our partners in the field of plant and mechanical engineering are leading international companies. We have enjoyed long-standing relationships with some of these partners for more than 30 years. Our customers therefore profit from successful cooperation when realising turnkey automation projects.

The ProLeiT Certified OEM Partners actively contribute to the success of the global ProLeiT strategy by identifying Plant iT and brewmaxx process control systems as part of their product range and distributing them together with their plant solutions. The close cooperation between ProLeiT and the Certified OEM Partner in the fields of software development, training and project management results in innovative automation solutions that provide the partner and its customers with a unique competitive edge.
Certified OEM Partner
Partner