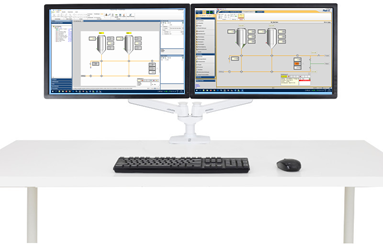 The ProLeiT Academy offers remote training courses .
Technical requirements:
Training computer with 2 Full HD monitors
Communication and presentation via MS Teams
Access to the training environment via Apache Guacamole™ - VPN
Mobile device with TOTP app (e.g. MS Authenticator) for VPN access to our training system
Limited to 15 participants per training.
Each participant has his own engineering environment and his own PLC.
Train iT Practice (optional):
Use of the training environment for exercises following the training
Optional add-on: Train iT Practice
You would like to deepen your knowledge acquired in of our trainings by applying what you just learned to practical problems?
In that case, we recommend our new optional add-on Train iT Practice.
You will receive online-access to our training environment
(Duration: One week, immediately following the respective training.)
You will receive assignments covering the training's content.
Those can be put into practice by you using the training environment.
Get support from our tutors in the online forum.
Here you can post your queries pertaining to the exercises and receive an answer until noon of the following business day.
You would like direct support from one of our trainers?
That's no problem either. Get online support via MS Teams (Invoicing based on time and cost, according to our service rates, or using ProLeiT Service Credits).
Target:
Independent immersion in the training's content.
Prerequisite:
Train iT Practice can be booked as an option along with each of our trainings
Booking:
The option "Train iT Practice" can be selected when registering for any of our courses (currently not available for ROCKWELL trainings). Price: 500,00 €