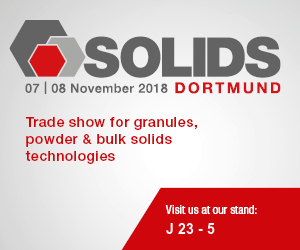 At this year's SOLIDS in Dortmund, one of the leading trade shows for powder and bulk solids technologies in Germany, ProLeiT AG will present inspiring new products from the field of industry-specific automation solutions. From 07 to 08 November 2018, interested visitors to the exhibition can discover more about the process control systems and MES solutions in Hall 5 / Stand J 23-5 and learn about the most recent breakthroughs and developments, including an add-on for Plant Batch iT, the central process control system for controlling and monitoring recipe-controlled batch processes.
Plant Batch iT MWS: The weighing assistant for manual weighing processes
Adding materials manually is a task that is regularly needed in the process industry. These may be anything from small quantities for laboratories to quantities recorded using only platform scales. Potential sources of error at this stage are basically due to the fact that weighing orders are written down by hand and safety regulations are not met. Inefficient weighing processes and off-specification batches caused by erroneous additions additionally lead to reduced quality and a notable loss of time and raw materials.
ProLeiT's Manual Weighing System (MWS), an add-on for the modular process control system Plant iT, delivers an intelligent weighing assistant that enables the clear processing of bills of material while visually and reliably guiding operators through the weighing process aided by five colour grades. In order to offer the best possible support for processes at the operating station, the application contains workflow data, including, e.g., information about required protective clothing or how to handle certain materials. Furthermore, the MWS helps operators select the most suitable scales depending on the stipulated weighing and tolerance range.
Plant Integrate iT – the MES solution for plant-wide reporting and workflow management
Numerous production plants are encountering innumerable problems due to the increasing density of information. Very often it is impossible to filter out relevant and 'correct' information, which ultimately has a significant negative impact on efficiency and productivity. Monitoring, analysing and then reporting deviations to the right person at the right time and in the right context are indispensable criteria for successfully controlling production plants.
Plant Integrate iT - the industry solution for MES, reporting and workflow management - allows the 'visualisation' of all production processes. Come and discover how simple production reports can be displayed and distributed via a web browser. Using ProLeiT's dynamic analytic dashboards, it is possible to process and prepare information from various sources at a central location before displaying it accurately on state-of-the-art end devices thanks to visual analytics.