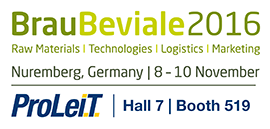 At this year's BrauBeviale in Nuremberg, the most important capital goods exhibition of the beverage industry, ProLeiT AG will present inspiring new products from the field of industry-specific automation solutions. From 8 to 10 November 2016 interested visitors to the exhibition can test the high-performance process control systems brewmaxx und Plant iT in Hall 7 / Stand 519. Visitors can additionally learn about the most recent breakthroughs and developments, including an add-on for the MES solution brewmaxx Integrate that allows users to view, enhance and correct captured brewing process data.
The following will be showcased at the ProLeiT stand:
New brewmaxx add-on: Continuous processing of information in breweries
ProLeiT will be unveiling a new add-on at this year's BrauBeviale which can be used to simply check, enhance and correct captured production data. As part of the MES solution brewmaxx Integrate, this add-on has been adapted perfectly to meet the daily requirements of breweries. Hand-written data can, for instance, be entered into the system or production parameters validated and any errors eliminated before being transferred to external systems. The extensive and comprehensive functions of the new add-on therefore create the ideal basis for the continuous processing of information in breweries.
Plant Batch iT MWS: weighing assistant for manual weighing processes
Adding materials manually is a task that is regularly needed in the process industry. These may be anything from small quantities for laboratories to quantities recorded using platform scales. Potential sources of error at this stage are basically due to the fact that weighing orders are written down by hand and safety regulations are not met. Inefficient weighing processes and off-specification batches caused by erroneous additions additionally lead to a notable loss of time and raw materials.
ProLeiT's new Manual Weighing System (MWS), an add-on for the modular process control system Plant iT, delivers a guided weighing assistant that enables the clear processing of bills of material while visually and reliably guiding operators through the weighing process aided by five colour grades. In order to offer the best possible support for processes at the operating station, the software contains workflow data, including, e.g., information about required protective clothing or how to handle certain materials. Furthermore, the MWS helps operators select the most suitable scales depending on the stipulated weighing and tolerance range. After completing a weighing process, a label can be created for the packaging that - in addition to a barcode - also displays order data, the weighed components including quantities and, if necessary, handling and danger symbols.
Plant Acquis iT LMS: minimising downtime, maximising plant efficiency
Downtime means losses. Since even the shortest amount of downtime, so-called micro-stops, can reduce a system's effectiveness significantly. Within this context, a Line Management System provides a great solution and helps to determine the causes of downtime. Plant Acquis iT LMS from ProLeiT offers an add-on for the production data management system Plant Acquis iT, thus enabling simple access into the world of Line Management. The add-on records the automated downtime of plants and machines. The causes of downtime and other system or order-related data can be entered at any time manually via drop-down boxes. The entire data can be analysed down to the finest detail with the help of the drill-down-function: downtime periods can then be arranged hierarchically with varying levels of detail from the overall bottling plant to individual units.
Best practice: brewmaxx MES solutions in use at Carlsberg and Heineken
The extensive range of ProLeiT MES solutions will be demonstrated through the presentation of successful installations at Heineken and Carlsberg. The exhibit shows impressively how ProLeiT solutions can be utilised for plant-wide MES reporting as well as for integration in the SAP system, the validation of process batches through staff and the inventory overviews of production planning. Furthermore, the system documents manual interventions as well as extract loss balances. The integrated reporting system finally combines production and quality data: mass data can be evaluated quickly and displayed graphically using intuitive analysis dashboards.
Process control system for the dairy and fruit juice industry
The exhibit for the dairy and beverage industry that will be showcased at BrauBeviale 2016 combines Plant Batch iT functions from the fruit juice industry with Plant Liqu iT functions from the dairy industry. The exhibit clearly demonstrates how, for instance, continuous processes and batch processes (milk delivery, separator, evaporator, filtration, drying tower, etc.) can be mapped using a central process control system. Furthermore, the exhibit shows the raw material stage combined with laboratory data as well as standardised recipe optimisations for the dairy and juice industry. Vertical as well as horizontal integration of plants will be demonstrated for both industries.
System monitoring: new, proactive solution for maintenance and repair work
Over the years, monitoring solutions have become the standard for monitoring IT infrastructures. In contrast to manually executed maintenance work, the status of a plant can be recorded 24/7 through system monitoring. Faults are detected and reported reliably, while performance metrics are recorded as long-term trends and output as clear and concise reports. The ProLeiT solution for system monitoring will be presented using the example of a typical brewmaxx PCS installation. The application of this solution enables plant operators, on the one hand, to quickly detect and eliminate faults and any deviations from 'standard operation' and, on the other hand, to respond proactively to performance bottlenecks.
brewmaxx EnMS: qualified energy management system to DIN EN ISO 50001
The exhibit demonstrates how energy consumption in production plants can be initially determined and then considerably reduced. The recording of measured values enables production plants to recognise limit values, incorporate early warning mechanisms for them as well as make predictions about the long and short-term development of consumption and to compare the levels of energy consumption of several years with each other. The application of this energy management solution thus has a permanent positive effect on the energy balance of production plants. The eligibility of brewmaxx EnMS or Plant Acquis iT EnMS, according to the regulations of the German Federal Office for Economic Affairs and Export Control (BAFA), is another very interesting aspect for operators of energy-intensive production plants.
Brewhouse, filter, tank farm, filling – the complete automation of a brewery
The brewmaxx exhibit is an extensive demonstration system that covers all the process areas of a brewery and integrates all the important add-ons. For instance, the add-ons Visu-Recorder or Routing Management can also be tested on site.
We look forward to meeting you at our stand in Hall 7 / Stand 519. For more information, please visit www.proleit.com.