JohnsonDiversey Value Chain, Netherlands
Automation of a production facility for cleaning material and disinfectants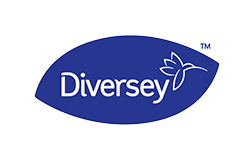 ProLeiT realized the automation of the eight agitator reactors, the tank farm and the filling lines for the new plant "Jupiter II" of JohnsonDiversey in Enschede (Netherlands).
JohnsonDiversey produces at its facility in Enschede with 11 filling lines, liquid cleaning material and disinfectants, mainly for industrial use, but to a limited extent also for the consumer market (e.g. Omo, Sunil).
The process control platform Plant iT with integrated batch functionality that satisfies the requirements of the GMP 21CFR Part 11 regulation and batch tracking was used. The order dispatching is made by the SAP/R3 ® ERP system and coupled directly via the parameterizable communications interface Plant Connect iT.
To provide simple operator guidance locally at the agitator reactors, the implemented Exschutzzone II-approved terminals with touch display provide the reactor-relevant information to the operator in full-graphic form. A redundant designed server platform and a backup power supply for the computer and controller components (SIMATIC S7-400) guarantee the three-shift operation required by JohnsonDiversey. Being based on the ProLeiT Plant iT system family, this achieves a standardization of all automation components for the future.
The integration of Plant Direct iT with Endress+Hauser's FieldCare Plant Asset Management ensures optimized plant performance and availability.