Heraeus Holding GmbH, Germany
Production data acquisition system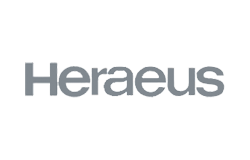 ProLeiT realized for the noble metal and technology group Heraeus with headquarters in Hanau a production data acquisition system for a production plant of a pharmaceutical substance.
Here, values from the process and the associated ancillary systems are recorded via I/O. The messages are output parallel to the text output as audio messages using the telephone or loudspeakers.
For this capability, the Plant iT Messenger has been extended to allow messages to be forwarded to a telephone using a speech engine (TTS: Text to Speech). In addition, a steam sterilizer is connected to the PDA system via a serial interface. As next step it is planned to extend the PDA solution to an additional plant.