Enviral A.S., Slovak Republic
Process control system for bioethanol plant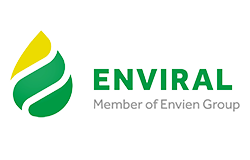 ProLeiT AG received the contract from GEA Wiegand GmbH to provide the engineering and deliver a Plant Direct iT process control system for the Enviral A.S. bioethanol plant in Leopoldov, Slovak Republic.
The bioethanol plant built by GEA Wiegand GmbH as general contractor produces 300,000 liters per year of bioethanol from corn.
The hardware for the process control system consists of two controller SIMATIC type S7-416, a server, an engineering station and two workstations.
The quantity framework lies in the general order of 700 analog signals with 200 software controllers, and 550 motors and valves.
The project management was handled by the ProLeiT group; ProLeiT AG was the contractor. The subsidiary ProLeiT GmbH in Vienna provides the local support and the after-sales service.