ProLeiT AG has named corosys Prozeßsysteme und Sensoren GmbH as a Certified OEM Partner, thus taking this highly successful cooperation to a whole new level. The aim of this partnership is to intensify cooperation in the future and to promote new projects at both national and international level. corosys, a manufacturer and supplier of sensors, components and complete process systems for the international brewing, beverage and chemical/pharmaceutical and biotech industry, has been working closely with ProLeiT since 2014.
Combined with the industry-based process control systems Plant iT and brewmaxx, customers worldwide profit from technologically advanced solutions and first-class engineering with extensive, local support. ProLeiT looks forward to continuing this successful cooperation, which is currently reflected in numerous joint projects.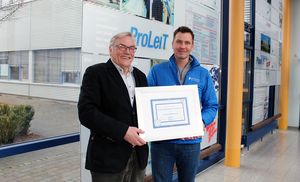 Stefan Feider, head of automation, corosys prozesssysteme und Sensoren GmbH, (right) receives the ProLeiT partnership certificate.