Werner & Mertz GmbH, Germany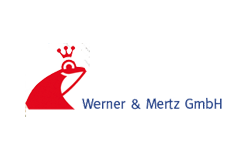 The Mainz-based family business Werner & Mertz was established in 1867 as the wax goods factory 'Gebrüder Werner' (Werner Brothers) in Mainz am Rhein, Germany.
The memorable brand mark of Werner & Mertz GmbH is widely known, especially in the German-speaking market: the famous 'red frog' is used, among other things, by the 'Erdal' shoe polish brand, 'Emsal' floor care products and the bulk consumer brand 'tana Professional'. The 'green frog' is synonymous with the eco-friendly cleaning agents of the 'Frosch' brand and 'green care PROFESSIONAL'.
Werner & Mertz GmbH has been using process control systems from ProLeiT at its production facilities H12, H22 and L1 since 2003. The upgrading of all the plants to Plant iT Version 9, in particular, has been progressed in recent years.